SECCIÓ 10  Els gal·lesos exiliats. ADRAN 10 Y Cymry Alltud   
Secció10A. Els gal·lesos als Estats Units. Adran 10A. Y Cymry yn yr Unol Daleithau:  
<![if !vml]>

<![endif]>  
Gwefan Cymru-Catalonia:
La Web de Gal·les i Catalunya   
Wales-Catalonia Website
   
http://www.kimkat.org/amryw/1_alltudiaeth/america_y_cymry_yn_america_mynegai_2846c.htm

      0001 Pàgina Principal / Yr Hafan  kimkat0001    
→ 2002c Mapa de la web en català / Yr Arweinlen yn Saesneg kimkat2002c   
→ 2855c Pàgina índex – els gal·lesos exiliats / Cyfeirddalen y Cymry Alltud  kimkat2855c
→ aquesta pàgina / y tudalen hwn

<![if !vml]>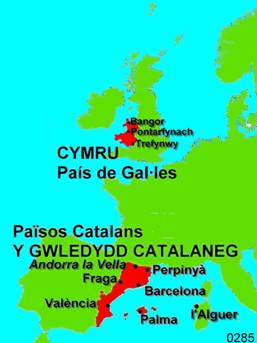 <![endif]>
(delw 0825)

<![if !vml]>

<![endif]> Y tudalen hwn yn Gymraeg  kimkat1793k     
<![if !vml]>

<![endif]>  This page in English (The Welsh in exile: United States. Index) kimkat1050e
xxx Videos / photos of Welsh settlements. Fídeos / ffotos o'r sefydliadau Cymreig.
xxx Videos / photos of text from The History of the Welsh in America (1872) and maps showing the location of Welsh settlements in the United States. Fídeos / ffotos o destun Hanes Cymry América (1872) â mapiau yn dangos lleoliadau'r sefydliadau yn Unol Daleithau América.
                       Alabama     
Alaska      
Arizona     
Arkansas     
California     
kimkat2818e
Colorado  
kimkat2815e
Connecticut     
Delaware     
District of Columbia     
Florida     
Georgia     
Idaho     
Illinois  
kimkat2797e
Indiana     
Iowa   
2792k kimkat2792k More information about the Welsh in Iowa / Rhagor o wybodaeth am y Cymry yn Iowa     
Kansas   
Kentucky     
Louisiana     
Maine     
Maryland     
Massachusetts     
Michigan     
Minnesota 
kimkat282e
Mississippi     
Missouri  
2808k kimkat2808k Més sobre els gal·lesos a Missouri / Rhagor o wybodaeth am y Cymry yn Missouri     
Montana     
Nebraska  
kimkat2800e
Nevada     
New Hampshire     
New Jersey     
New Mexico     
New York     
North Carolina     
North Dakota     
Ohio  
kimkat2839e
Oklahoma     
Oregon     
Pennsylvania  
kimkat2842e
Rhode Island     
South Carolina     
South Dakota     
Tennessee     
kimkat2821e
Texas     
Utah     
Vermont     
Virginia     
Washington     
West Virginia     
Wisconsin  
kimkat2803e
Wyoming     
 .....
Ble'r wyf? Yr ych yn ymwéld ag un o dudalennau'r Gwefan "CYMRU-CATALONIA"
On sóc? Esteu visitant una pàgina de la Web "CYMRU-CATALONIA" (= Gal·les-Catalunya)
Weə(r) àm ai? Yùu àa(r) vízïting ə peij fròm dhə "CYMRU-CATALONIA" (= Weilz-Katəlóuniə) Wéb-sait
Where am I? You are visiting a page from the "CYMRU-CATALONIA" (= Wales-Catalonia) Website

CYMRU-CATALONIA
Fi / Diwedd
Darreres actualitzacions  - Adolygiadau diweddaraf
01 08 2011