HEN WLAD FY NHADAU / Anthem Genedlaethol Cymru / l'himne nacional del Païs de Gal·les. 2707e
<![if !supportEmptyParas]> <![endif]>
<![if !supportEmptyParas]> <![endif]>
http://www.kimkat.org/amryw/1_caneuon/canu_hen_wlad_fy_nhadau_2707e.htm
............... 0010e Y Barthlen / Map of the Website
 ...................... 0380e Mynegai i'r Adran Ganeuon / Orientation Page for Welsh Songs
<![if !supportEmptyParas]> <![endif]>
.............................Y tudalen hwn / this page
<![if !supportEmptyParas]> <![endif]>
<![if !vml]><![endif]>
(delw 0003)

Gwefan Cymru-Catalonia
La Web de Gal·les i Catalunya

The Wales-Catalonia Web

Caneuon gwerin ac emynau yn Gymráeg
Folksongs and hymns

HEN WLAD FY NHADAU
("the old country of my forefathers")

<![if !supportEmptyParas]> <![endif]>

Anthem Genedlaethol Cymru
Welsh National Anthem


<![if !supportLineBreakNewLine]>
<![endif]>

<![if !vml]><![endif]>
(delw 7316)


Adolygiad diweddaraf - darrera actualització – latest update
2009-02-06, 2001-06-11
<![if !supportEmptyParas]> <![endif]>
<![if !vml]>

<![endif]> 0196c Aquesta pàgina en català – l'himen nacional de gal·les (Hen Wlad fy Nhadau)
<![if !supportEmptyParas]> <![endif]>
There are four sections:
1 The words and the pronunciation  (IPA - International Phonetic Alphabet)
2 The words with an English translation
3 The wrods, the translation, and the pronunciation
4 Notes on the history of the anthem
<![if !supportEmptyParas]> <![endif]>
<![if !supportEmptyParas]> <![endif]>
1 Words and pronunciation
The syllables in red letters take the stress
<![if !supportEmptyParas]> <![endif]>
HEN WLAD FY NHADAU

1____________________________________

Mae Hen Wlad fy Nhadau yn annwyl i mi
maɪ heːn ʊlɑːd və nhɑˑdaɪ ən ɑˑnʊɪl iː miː

Gwlad beirdd a chantorion, enwogion o fri 
gʊlɑːd bəirð ɑː xantɔrjɔn, ɛnwɔgjɔn oː vriː

i gwrol ryfelwyr, gwladgarwyr tra mad 
əɪ guˑrɔl rəvɛlwɪr, gʊladgarwɪr trɑː mɑːd

Dros ryddid collasant eu gwaed 
drɔs rəðɪd kɔɬasant əɪ gwaɪd
<![if !supportLineBreakNewLine]>
<![endif]>

Y GYTGAN_____________________ (= the refrain / ə gətgan )

Gwlad! Gwlad! 
gʊlɑːd gʊlɑːd

Pleidiol wyf i'm gwlad 
pləɪdjɔl ʊɪv iːm gʊlɑːd

Tra'r môr yn fur 
trɑːr moːr ən viːr

I'r bur hoff bau 
iːr biːr hoːf baɪ

O bydded i'r heniaith barhau 
oː bəðɛd iːr hɛnjaɪθ barhaɪ
<![if !supportLineBreakNewLine]>
<![endif]>
2____________________________________

Hen Gymru fynyddig, paradwys y bardd 
heːn gəmrɪ vənəðɪg, parɑˑdʊɪs ə barð

Pob dyffryn, pob clogwyn, i'm golwg sy'n hardd 
poːb dəfrɪn, poːb klɔgwɪn, iːm goˑlʊg siːn harð

Trwy deimlad gwladgarol mor swynol yw si 
trʊɪ dəimlad gʊlɑdgɑˑrɔl, mɔr sʊɪnɔol ɪʊ siː

Ei nentydd, afonydd i mi   
əɪ nɛntɪð, avoˑnɪð iː miː
<![if !supportLineBreakNewLine]>
<![endif]>
Y GYTGAN_____________________ (= the refrain / ə gətgan )

Gwlad! Gwlad! 
gʊlɑːd gʊlɑːd

Pleidiol wyf i'm gwlad 
pləɪdjɔl ʊɪv iːm gʊlɑːd

Tra'r môr yn fur 
trɑːr moːr ən viːr

I'r bur hoff bau 
iːr biːr hoːf baɪ

O bydded i'r hen iaith barhau 
oː bəðɛd iːr hɛnjaɪθ barhaɪ
 
3____________________________________

Os treisiodd y gelyn fy ngwlad dan ei droed 
ɔs trəɪsjɔð ə geˑlɪn və ŋʊlɑːd dan əi drɔɪd

Mae heniaith y Cymry mor fyw ag erioed 
maɪ hɛnjaɪθ ə kəmrɪ mɔr vɪʊ ɑːg ɛrjɔɪd

Ni luddiwyd yr awen gan erchyll law brad 
niː lɪðjuid ər aʊɛn gan ɛrxɪɬ laʊ brɑːd

Na thelyn berseiniol fy ngwlad
nɑː θeˑlɪn bɛrsəɪnjɔl və ŋʊlɑːd

Y GYTGAN_____________________ (= the refrain / ə gətgan )

Gwlad! Gwlad! 
gʊlɑːd gʊlɑːd

Pleidiol wyf i'm gwlad 
pləɪdjɔl ʊɪv iːm gʊlɑːd

Tra'r môr yn fur 
trɑːr moːr ən viːr

I'r bur hoff bau 
iːr biːr hoːf baɪ

           O bydded i'r hen iaith barhau 
           oː bəðɛd iːr hɛnjaɪθ barhaɪ
 
2 The words and the translation
 
In the column with the literal translation there are indicated the 'mutations' - (la initial consonant of a word may undergo a change within a sentence).
º 'soft mutation'
ºº 'spirant mutation'
ººº 'nasal mutation'
<![if !supportEmptyParas]> <![endif]>
<![if !supportEmptyParas]> <![endif]>

HEN WLAD FY NHADAU

Literal translation

<![if !supportEmptyParas]> <![endif]>

 

<![if !supportEmptyParas]> <![endif]>

<![if !supportEmptyParas]> <![endif]>

Mae Hen Wlad fy Nhadau yn annwyl i mi
The old land of my [fore]fathers is dear to me
<![if !supportLineBreakNewLine]>
<![endif]>

Mae (it-is) / Hen (old) / ºWlad (land) / fy (my) / ººNhadau (fathers / forefathers) / yn (linking particle) / annwyl (dear, belovèd) / i (to) / mi (me)


<![if !supportEmptyParas]> <![endif]>

Gwlad beirdd a chantorion, enwogion o fri
A country of poets and singers, prominent people of renown

Gwlad ([a] land, [a] country) / beirdd (poets, 'bards') / a (and) / ºººchantorion (singers), / enwogion (prominent people) / o ºfri (of renown)
<![if !supportLineBreakNewLine]>
<![endif]>

<![if !supportEmptyParas]> <![endif]>

Ei gwrol ryfelwyr, gwladgarwyr tra mad
Its valient warriors, excellent patriots
<![if !supportLineBreakNewLine]>
<![endif]>

Ei (its) / gwrol (valient, manly) / ºryfelwyr (warriors, fighters), / gwladgarwyr (patriots) / tra (very) / mad (good)


<![if !supportEmptyParas]> <![endif]>

Dros ryddid collasant eu gwaed
For freedom they spilt ("lost") their blood
<![if !supportLineBreakNewLine]>
<![endif]>

Dros (on behalf of, for) / ºryddid (freedom, liberty) / collasant (they lost) / eu (their) / gwaed (blood)

<![if !supportEmptyParas]> <![endif]>

 




<![if !supportEmptyParas]> <![endif]>

Y GYTGAN   
<![if !supportLineBreakNewLine]>
<![endif]>

THE REFRAIN

<![if !supportEmptyParas]> <![endif]>

Gwlad! Gwlad!
(My) land!
<![if !supportLineBreakNewLine]>
<![endif]>

Gwlad! ([my] country) / Gwlad!


<![if !supportEmptyParas]> <![endif]>

Pleidiol wyf i'm gwlad
I support my land
<![if !supportLineBreakNewLine]>
<![endif]>

 (it-is) (omitted in modern Welsh) Pleidiol (supportive, favourable) / wyf (that-I-am) / i'm (to my) / gwlad (country / land)

<![if !supportEmptyParas]> <![endif]>

Tra'r môr yn fur
While the sea is a wall

Tra'r (while [it-is]) / 'r (the) /  môr (sea) / yn (linking particle) / ºfur (a wall)

<![if !supportEmptyParas]> <![endif]>


I'r bur hoff bau
To the much loved country [NOTE: Wales is shaped like an upturned rectangle, and is bounded on three sides by the sea; the eastern side is the boundary with England)  


I'r (to the) / ºbur (very, truly) / hoff (loved; favourite) / ºbau (country)

<![if !supportEmptyParas]> <![endif]>

O bydded i'r heniaith barhau
Oh, may the old language endure

O (o!) / bydded (may it be) / i'r (to the) / heniaith (old language) / ºbarhau (endure, continue, carry on)

<![if !supportEmptyParas]> <![endif]>


 




<![if !supportEmptyParas]> <![endif]>

Hen Gymru fynyddig, paradwys y bardd
Old mountainous Wales, the paradise of the poet

 Hen (old) / ºGymru (Wales) / ºfynyddig (mountainous), / paradwys (paradise) / y bardd ([of] the poet)
<![if !supportLineBreakNewLine]>
<![endif]>

<![if !supportEmptyParas]> <![endif]>

Pob dyffryn, pob clogwyn, i'm golwg sy'n hardd
Every valley, every precipice, is beuatiful to my eyes
<![if !supportLineBreakNewLine]>
<![endif]>

Pob (every) / dyffryn (valley), / pob (every) / clogwyn (precipi),  (it-is) (omitted in modern Welsh) i'm (to my) / golwg (sight) / sy (which-it-is) / 'n = yn (linking perticle) / hardd (beautiful, pretty)

<![if !supportEmptyParas]> <![endif]>

Trwy deimlad gwladgarol mor swynol yw si
Through patriotic feeling (it-is) so enchanting (that-is) the whispering  

Trwy (through) / ºdeimlad (sentiment, feeling) / gwladgarol (patriotic) / mor (so) / swynol (enchanting) / yw (is) / si ([the] whispering [of])


<![if !supportEmptyParas]> <![endif]>

Ei nentydd, afonydd i mi
De les seves rieres i els seus rius
<![if !supportLineBreakNewLine]>
<![endif]>

Ei (its) / nentydd (streams), / afonydd (rivers) / i mi (to me)

<![if !supportEmptyParas]> <![endif]>


<![if !supportLineBreakNewLine]>
<![endif]>




<![if !supportEmptyParas]> <![endif]>

Y GYTGAN  

THE REFRAIN

<![if !supportEmptyParas]> <![endif]>


<![if !supportLineBreakNewLine]>
<![endif]>

·····


<![if !supportEmptyParas]> <![endif]>

Os treisiodd y gelyn fy ngwlad dan ei droed
If the enemy conquered and trampled underfoot my country

Os (si) / treisiodd (conquered, vanquished, violently attacked. oppressed) / y gelyn (the enemy) / fy ººngwlad (my country) / dan (under) / ei ºdroed (his foot)

<![if !supportEmptyParas]> <![endif]>

Mae heniaith y Cymry mor fyw ag erioed
The old language of the Welsh people is as alive as it ever was  
<![if !supportLineBreakNewLine]>
<![endif]>

Mae (it-is) / heniaith ([the] old language [of]) / y Cymry (the Welsh people) / mor (as) / º fyw (alive) / ag (as) / erioed (ever) (NOTE: the anthem was written in 1856, when the vast majority spoke Welsh, and a great proportion of the Welsh-speaking population knew no other language)


<![if !supportEmptyParas]> <![endif]>

Ni luddiwyd yr awen gan erchyll law brad

The muse was not impeded by the terrible hand of teachery

Ni (not) / ºluddiwyd (it has been impeded) / yr awen (la musa) / gan (per) / erchyll (terrible) / ºlaw (mà) / brad (traïció, perfídia) /

<![if !supportEmptyParas]> <![endif]>

Na thelyn berseiniol fy ngwlad
Neither [was] the melodious harp of my country

Na (neither, nor) / ººº thelyn ([the] harp) / ºberseiniol (melodious) / fy ([of] my) / ºº ngwlad (country)



3 The words, the translation, the pronunciation

A siplified pronunciation system
The syllables in capital letters take the accent
Double vowels indicate a long vowel; single vowels indicate a short vowel
<![if !supportEmptyParas]> <![endif]>
              NH is n + h
<![if !supportEmptyParas]> <![endif]>
DH is the TH of English THIS, THAT, THE
<![if !supportEmptyParas]> <![endif]>
TH is the TH of English THINK
<![if !supportEmptyParas]> <![endif]>
               HL is the aspirated L of Welsh – a VERY approximate pronuncation is H followed by L  
<![if !supportEmptyParas]> <![endif]>
The ə is an obscure vowel – a sound which is abundant in Welsh, as it is in English (the a of around, about, alive, awake, etc)
<![if !supportEmptyParas]> <![endif]>
AI as in mine, light, sign, spy
AU as in mountain, town
UI as in chop suey
EI as in cane, late, stain, weight, way
Y as in yes
U as in put, look

<![if !supportLineBreakNewLine]>
<![endif]>
<![if !supportEmptyParas]> <![endif]>

HEN WLAD FY NHADAU

Pronunciació

<![if !supportEmptyParas]> <![endif]>

 

<![if !supportEmptyParas]> <![endif]>

<![if !supportEmptyParas]> <![endif]>

Mae Hen Wlad fy Nhadau yn annwyl i mi
The old land of my [fore]fathers is dear to me
<![if !supportLineBreakNewLine]>
<![endif]>

mai HEEN ulaad və  NHAA-dai ən AA-nuil ii MII   


<![if !supportEmptyParas]> <![endif]>

Gwlad beirdd a chantorion, enwogion o fri
A country of poets and singers, prominent people of renown

gulaad BEIRDH aa khan-TOR-yon, en-WOG-yon oo VRII

<![if !supportEmptyParas]> <![endif]>

Ei gwrol ryfelwyr, gwladgarwyr tra mad
Its valient warriors, excellent patriots
<![if !supportLineBreakNewLine]>
<![endif]>

ei GUU-rol rə-VEL-wir, gulad-GAR-wir traa MAAD

<![if !supportEmptyParas]> <![endif]>

Dros ryddid collasant eu gwaed
For freedom they spilt ("lost") their blood
<![if !supportLineBreakNewLine]>
<![endif]>

dros RƏ-dhid ko-HLA-sant ei GWAID

<![if !supportEmptyParas]> <![endif]>

 

<![if !supportEmptyParas]> <![endif]>

<![if !supportEmptyParas]> <![endif]>

Y GYTGAN   
<![if !supportLineBreakNewLine]>
<![endif]>

<![if !supportEmptyParas]> <![endif]>

<![if !supportEmptyParas]> <![endif]>

Gwlad! Gwlad!
(My) land!
<![if !supportLineBreakNewLine]>
<![endif]>

GULAAD, GULAAD

<![if !supportEmptyParas]> <![endif]>

Pleidiol wyf i'm gwlad
I support my land
<![if !supportLineBreakNewLine]>
<![endif]>

PLEID-yol UIV im GULAAD

<![if !supportEmptyParas]> <![endif]>

Tra'r môr yn fur
While the sea is a wall

traar MOOR ən VIIR

<![if !supportEmptyParas]> <![endif]>


I'r bur hoff bau
To the much loved country [NOTE: Wales is shaped like an upturned rectangle, and is bounded on three sides by the sea; the eastern side is the boundary with England)  

iir BIIR hoof BAI

<![if !supportEmptyParas]> <![endif]>

O bydded i'r heniaith barhau
Oh, may the old language endure

o BƏ-dhed iir HEEN YAITH bar-HAI

<![if !supportEmptyParas]> <![endif]>


 

<![if !supportEmptyParas]> <![endif]>

<![if !supportEmptyParas]> <![endif]>

Hen Gymru fynyddig, paradwys y bardd
Old mountainous Wales, the paradise of the poet

heen GƏM-ri və-NƏ-dhig, pa-RAA-duis ə  BARDH

<![if !supportEmptyParas]> <![endif]>

Pob dyffryn, pob clogwyn, i'm golwg sy'n hardd
Every valley, every precipice, is beuatiful to my eyes
<![if !supportLineBreakNewLine]>
<![endif]>

poob DƏ-frin, poob KLOG-win, iim GOO-lug siin HARDH

<![if !supportEmptyParas]> <![endif]>

Trwy deimlad gwladgarol mor swynol yw si
Through patriotic feeling (it-is) so enchanting (that-is) the whispering  

trui DEIM-lad gulad-GAA-rol mor SUI-nol iu SII

<![if !supportEmptyParas]> <![endif]>

Ei nentydd, afonydd i mi
De les seves rieres i els seus rius
<![if !supportLineBreakNewLine]>
<![endif]>

ei NEN-tidh, a-VOO-nidh ii MII

<![if !supportEmptyParas]> <![endif]>


<![if !supportLineBreakNewLine]>
<![endif]>

<![if !supportEmptyParas]> <![endif]>

<![if !supportEmptyParas]> <![endif]>

Y GYTGAN  

<![if !supportEmptyParas]> <![endif]>

<![if !supportEmptyParas]> <![endif]>


<![if !supportLineBreakNewLine]>
<![endif]>

<![if !supportEmptyParas]> <![endif]>

Os treisiodd y gelyn fy ngwlad dan ei droed
If the enemy conquered and trampled underfoot my country

os TREIS-yodh ə  GEE-lin və  NGULAAD dan ei DROID

<![if !supportEmptyParas]> <![endif]>

Mae heniaith y Cymry mor fyw ag erioed
The old language of the Welsh people is as alive as it ever was  
<![if !supportLineBreakNewLine]>
<![endif]>

mai HEN-yaith ə  KƏM-ri mor VIU aag er-YOID

<![if !supportEmptyParas]> <![endif]>

Ni luddiwyd yr awen gan erchyll law brad

The muse was not impeded by the terrible hand of teachery

nii LIDH-yuid ər AU-en gan ER-khihl lau BRAAD

<![if !supportEmptyParas]> <![endif]>

Na thelyn berseiniol fy ngwlad
Neither [was] the melodious harp of my country

naa THEE-lin ber-SEIN-yol və  NGULAAD


 
4 The story of the anthem
The composer was Evan James (1809-1878) (he used the Welsh form of his name Ieuan ab Iago as his bardic name or presudonym – in the 1800s the Welsh used the English forms of their names officially, as is the case today, though today many use Welsh genuine Welsh forms either as hybrids with English forms, or combinations which are exclusively Welsh)
He wrote the words for 'Hen Wlad fy Nhadau' in the year 1856 (at the age of 46/47 anys). The tune was apparently composed by his son James James (Iago ap Ieuan) (who was 22/23 years old).
Ieuan ap Iago was born in Caerffili, but worked as a weaver in the town of Pont-ty-pridd, not far from Caerffili. He was the owner of a woollen mill and also a tavern keeper.  
Commentary on the anthem – Welsh nationality is defined more than anything else by the language. In the 1800s poetry and music were popular manifestations of Welsh culture (and also song, greatly encouraged as an aspect of religious worship). The traditional musical instrument was the harp.
There was a long struggle against English invaders over the centuries. Although internecine battles also took place, the real enemy was the English, who had penned the Welsh into the south-western mountainous peninsula of the island, having conquered 60% of the area of the island. In 1535 Wales was effectively annexed to England, and the Welsh became a subjugated people in their own land. The memory of past battles and the desire for freedom for their nation remained among the ordinary people. (The upper classes having abandoned their Welshness to become a kind of provincial English, and had little in common with their non-Anglicised compatriots).   
The Breton national anthem (Bro Gozh va Zadoù) is an adaptation of the Welsh anthem, in Breton, and dating from the year 1894...................................
<![if !supportEmptyParas]> <![endif]>
<![if !supportEmptyParas]> <![endif]>
......................<![if !vml]>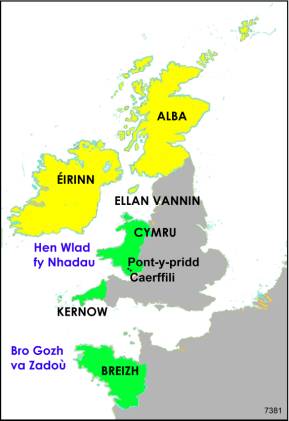 <![endif]>.
(delw 7381)
<![if !supportEmptyParas]> <![endif]>
<![if !supportEmptyParas]> <![endif]>
Sumbolau arbennig: ŷ ŵ  ə
<![if !supportEmptyParas]> <![endif]>
Ble'r wyf i? Yr ych chi'n ymwéld ag un o dudalennau'r Gwefan "CYMRU-CATALONIA"
On sóc? Esteu visitant una pàgina de la Web "CYMRU-CATALONIA" (= Gal·les-Catalunya)
Weə(r) àm ai? Yùu àa(r) vízïting ə peij fròm dhə "CYMRU-CATALONIA" (= Weilz-Katəlóuniə) Wéb-sait
Where am I? You are visiting a page from the "CYMRU-CATALONIA" (= Wales-Catalonia) Website
<![if !supportEmptyParas]> <![endif]>
<![if !supportEmptyParas]> <![endif]>