http://www.theuniversityofjoandeserrallonga.com/kimro/amryw/1_lleoliadur/lleoliadur_y_ddiserth_yn_elfael_2174k.htm

Yr Hafan

..........1863k Y Fynedfa yn  Gymraeg

....................0009k Y Gwegynllun

..............................1956k Cyfeirddalen y Lleoliadur

....................................................y tudalen hwn
<![if !supportLineBreakNewLine]>
<![endif]>
<![if !vml]><![endif]>
..





 

Gwefan Cymru-Catalonia
La Web de Gal·les i Catalunya

<![if !supportLineBreakNewLine]>
<![endif]>

Y Lleoliadur
DISERTH (Y DDISERTH YN ELFAEL)
<![if !supportLineBreakNewLine]>
<![endif]>

<![if !vml]><![endif]>
<![if !vml]>

<![endif]>  xxxx  Aquesta pàgina en català 

<![if !vml]>

<![endif]> xxxx This page in English 
<![if !vml]>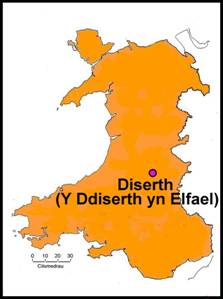 <![endif]>
Y Ddiserth yn Elfael

 

SO 0358
0991e Where Welsh is and was spoken
Diserth / Y Ddiserth yn Elfael county of Powÿs (= "Disserth", also "Disart"), 1746
A Welsh Wakes. A wakes at "Dysart" in Radnorshire, is thus described by a Visitor at Llandrindod in 1746: "The churchyard, though large, was filled with people of almost all ages and qualities. The church is a strong building and pretty large, against the tiles of which were a dozen lusty young fellows playing at Tennis, and as many against the steeple at Fives. They played very well, but spoke (as indeed almost every one else did) in the Welsh tongue. On one side the church were about six couple dancing to one violin, and just below three or four couple to three violins, whose seat was a tombstone. In short, the whole was something whimsically odd. We here saw common games of ball against the sacred pile, and there the musick playing over the bones of the deceased." - A. N. S.
August 27 1873, "Bye-Gones Relating to Wales and the Border Counties".
DOLENNAU AR GYFER GWEDDILL Y GWEFAN HWN


0043c
Yr iaith Gymraeg
·····
0005k
Mynegai yn nhrefn y wyddor i'r hyn a geir yn y gwefan; o'r tudalen hwn gellir hefyd chwilio'r gwefan hwn â'r archwiliwr mewnol
.....
0052c
Testunau Cymraeg â throsiad Catalaneg yn y gwefan hwn
(Textos en gal·lès amb traducció catalana en aquesta web)
·····
1051e
Testunau Cymraeg â throsiad Saesneg yn y gwefan hwn
(Texts in Welsh with an English translation in this website)
 
º
Sumbolau arbennig: ŷ ŵ 

Ble'r wyf i? Yr ych chi'n ymwéld ag un o dudalennau'r Gwefan "CYMRU-CATALONIA"
On sóc? Esteu visitant una pàgina de la Web "CYMRU-CATALONIA" (= Gal·les-Catalunya)
Weø(r) àm ai? Yùu àa(r) vízïting ø peij fròm dhø "CYMRU-CATALONIA" (= Weilz-Katølóuniø) Wéb-sait
Where am I? You are visiting a page from the "CYMRU-CATALONIA" (= Wales-Catalonia) Website

CYMRU-CATALONIA