http://www. racocatala.com/catalunyacymru/amryw/1_enwau/enwau_lleoedd_cymru_mynegai_0605c.htm

Yr Hafan / Portada

..........1861c Y Fynedfa yn  Gatalaneg / Entrada en català

....................0008c Y Barthlen / Mapa de la web

..............................y tudalen hwn / aquesta pàgina
<![if !vml]><![endif]>
(delw 4672)
baneri Cymru ac Andorra
les banderes del País de Gal·les i Andorra
the flags of Wales and Andorra
.. 

Gwefan Cymru-Catalonia
La Web de Gal·les i Catalunya

<![if !supportLineBreakNewLine]>
<![endif]>


Enwau lleoedd Cymru
Mynegai i'n tudalenau sÿdd yn ymwneud â'r pwnc hwn

Topònims de Gal·les
Índex de les nostres pàgines sobre la toponímia gal·lesa

<![if !vml]><![endif]>
<![if !vml]>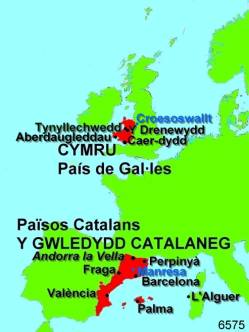 <![endif]>xxxx Y tudalen hwn yn Gymraeg
<![if !vml]>

<![endif]>xxxx This page in English (place names).

Y Llyfr Ymwelwyr / el llibre de visitants / The Visitors' Book
·····
PWNC / TEMA

"tref" (masia, poble) com a element de la toponíma

llyfr enwau lleoedd Cymraeg wedi eu hesbonio (yn Saesneg / yn Gatalaneg)
Una guia dels topònims gal·lesos. Vols saber que volen dir els noms de llocs gal·lesos? Llegiu aquesta secció, i apreniu el per què de tot plegat (Ara per ara només en anglès).

cyflwÿniad (yn Saesneg) i enwau lleoedd Cymraeg
Llista de topònims i elements de la toponímia explicats en català

Enwau Lleoedd Cymru - ffurfiau brodorol a ffurfiau Saesneg
Topònims de Gal·les - formes auctòctones i formes angleses
(Abertawe > Swansea)

Enwau Lleoedd Cymru - ffurfiau Saesneg a ffurfiau brodorol
Topònims de Gal·les - formes angleses i formes auctòctones
(Swansea > Abertawe)

Enwau Lleoedd Cymru - enwau afonÿdd
topònims de Gal·les - noms de rius
(Afon Wÿ)

Enwau Lleoedd Cymru - enwau mynyddoedd
Topònims de Gal·les - noms de muntanyes (bron dim bÿd yma - gairebé res aquí en aquest moment)
(Yr Wÿddfa)

Enwau Lleoedd Cymru - ffurfiau ar lafar gwlad
Topònims de Gal·les - formes curtes
Pont-tÿ-pridd > Y Bont
Llwÿnypia > Llwnpia

Enwau Lleoedd Lloegr yn Gymraeg
Topònims d'Anglaterra en gal·lès
(Caer-grawnt) (= Cambridge)

Enwau Lleoedd yr Alban yn Gymraeg
Topònims d'Escòcia en gal·lès
(Caeredin) (= Edinburgh)

Enwau Lleoedd Cymraeg Dramor
topònims gal·lesos a l'estranger (Gwynedd, USA, etc)

Llanfairpwllgwyngyllllantisiliogogogoch

enwau tai
noms de cases

pentrefi, trefi, dinasoedd Cymru - gwefannau
pobles i ciutats de Gal·les - webs

Edrychwch hefÿd ar
Dinasoedd / Trefi / Pentrefi Cymru â mwÿ na 2,000 o drigolion, wedi eu rhestru yn ôl trefn y wÿddor (1981)
Vegeu també
Muncipis del País de Gal·les de més de 2000 habitants ordenats segons el total d'habitants, per ordre alfabètic (1981)

Rhigymau enwau lleoedd
Place-name rhymes

llysenwau am drigolion y pentre a'r pentre (Trosiad Saesneg)
Sobrenoms pels habitants d'alguns pobles (traducció en anglès)

enwau heolÿdd Cymraeg
noms de carrers en llengua gal·lesa amb traducció catalana

Mynegai o erthyglau ar enwau lleoedd yn y gwefan hwn

Índex d'articles sobre la toponímia gal.lesa en aquesta web
·····
EDRYCHWCH ar ein Llÿfr Ymwelwÿr!

LLOFNODWCH -
Hoffech chi lofnodi ein Llÿfr Ymwelwÿr?

Cliciwch ar y botwm i gael gwÿbodaeth am lÿfr ymwelwÿr yn rhad ac am ddim

MIREU el nostre
Llibre de visites!

FIRMEU -
Voleu firmar el nostre
llibre de visites?

Pitxeu sobre el botó per informació sobre un llibre de visites de franc

VYUU auørr
Vízitørrz Buk!

SAIN -
Wud yuu laik tø sain auørr Vízitørrz Buk?

Klik on dhø bûtøn fòòrr inførrméishøn øbáut ø frii vízitørrz buk

VIEW our
Visitors' Book!

SIGN -
Would you like to sign our Visitors' Book?

Click on the button for information about a free visitors' book

.................................................................·
·····
Gweler hefÿd y dolennau allanol / vegeu també els enllaços externs:
ENWAU CYMRAEG YNG NGHYMRU/ topònims gal·lesos de Gal·les

01

Rhestr o enwau lleoedd Saesneg - Cymraeg / Llista de topònims anglès-gal·lès

Hysbyswÿr / informadors: Arwel Parry, Simon Gwÿn Roberts.

Mae rhai o'r ffurfiau yn wallus - o ganlyniad i gamdeipio'r enw, neu o ddewis ffurfiau nad ydÿnt yn rhai swÿddogol; er enghraiifft - 'Castell Nedd' (Castell-nedd), Pen-y-bont-ar-Ogwr (Pen-y-bont ar Ogwr). / Algunes formes són equívoques - de no picar correctament el nom, o en altres casos d'elegir formes no acceptades com a oficials 'Castell Nedd' (Castell-nedd), Pen-y-bont-ar-Ogwr (Pen-y-bont ar Ogwr).

·····

02

Yn y fan hÿn ceir rhestr fach yn Saesneg. Rhai camgymeriadau. Hi ha un llistat petit (gal·lès i anglès) en aquesta adreça. Conté alguns errors

·····

03

http://www.campus.bt.com/CampusWorld/pub/OS/mainmenu.html Ordnance Survey Gazetteer - place names in the UK

"Locate any UK place - returns name, county, OS grid reference and OS 1:50 000 sheet number"

Dim yn gweithio ag enwau Cymraeg - neu i fod yn gywirach, dim ond y cyfieithiadau Saeseneg (Swansea, nid Abertawe), neu am y camsillafiadau sÿdd wedi derbÿn fel yr enwau 'swÿddogol' (Bryn coch, nid Bryn-coch)

No funciona amb noms gal·lesos - o més ben dit, només amb les anglicitzacions de noms gal·lesos (traduccions: Swansea, en comptes de la foma autòctona Abertawe; formes ortograficament incorrectes - Bryn coch, en comptes de Bryn-coch)

·····

04

Multi Media Mapping

"A complete interactive atlas of Great Britain on the Web!!

Just click on the UK outline map to start browsing. Or enter the name of a British city, town or village, street name (London only) or postcode to get a detailed map. You can then zoom in on any part of that map, just by clicking on the area you wish to see in more detail, or you can choose to look at a new area. There is a scale indicator at the bottom of the map; you can zoom in and out as you please."

·····

05

Entendre la toponimia gal·lesa. En anglès. Desafortunadament no és gaire fiable

·····

06

http://www.n-e-t.co.uk/~gwyfhs/agytext.htm PLWYFI EGLWYSIG SIR FON / ECCLESIASTICAL PARISHES OF ANGLESEY

(Cymdeithas Hel Achau Gwynedd - ond enw uniaith Saesneg sÿdd yma, Gwynedd Family History Society'. Rhag cywilÿdd!)

·····

·····

ENWAU LLEOEDD/ topònims

·····

07

http://geonames.nrcan.gc.ca/english/other_sites.html " Other Interesting Websites relating to geographical names (Toponymy)"

Rhestr o wefannau sy'n ymwneud ag enwau lleoedd (gwefan yn Saesneg) / llista d'altres webs que tracten la toponímia (web en anglès)

·····

http://www.gwydir.demon.co.uk/uklocalgov/whtsacty.htm What is a County?

http://www.tax.org.uk/html/Addresses.htm

The Chartered Institute of taxation
12 UPPER BELGRAVE STREET, LONDON SW1X 8BB
TELEPHONE 0171 235 9381 / FACSIMILE 0171 235 2562
Lets get it write!
John Jeffrey-Cook addresses the need to show correct post towns and postcodes.


"A quiet postal revolution took place in 1995 in that the Royal Mail no longer require a postal county to be quoted as part of any postal address, provided that the post town and full accurate postcode are included. This already applied to about 50% of mail because the post town was so well known or it gave its name to the county. Automatic letter processing machinery has now become so efficient that the use of the postal county is no longer necessary for the mail to be delivered accurately and promptly.

It does not matter if a postal county, administrative county or geographical county is included in an address: Royal Mail simply ignore the county because they sort by postcode alone. The former recommended abbreviations for postal counties are therefore no longer relevant."

"Finally, the Royal Mail ask that addresses should never include the words near, by or local, or England, Wales, Scotland or Northern Ireland. Letters from abroad should end with the post town, United Kingdom or its foreign equivalent, and the postcode for example:

Mr W Blair
19 Sparrow Lane
GALASHIELS
ROYAUME UNI
TD1 1HU"

http://www.dse.nl/~pcnp/penf_dl4.html

PEMBROKESHIRE COAST NATIONAL PARK
PARC CENEDLAETHOL ARFORDIR PENFRO

A gazetteer of places in the National Park and their claims to fame.

(uniaith Saesneg ar wahân i'r teitl!)

Enghreifftiau o'r eitemau:
"Aber Bach (SM 883331)
Major drugs-bust here in 1986.
Aber Draw (SM 833325 )
Attractive small rocky bay
Aber Fforest (SN 026396)
Aber Mawr (SM 882346)
Large remote bay with striking bank of pebbles created in the great storm of 1859. Undersea telegraph cable laid from here to Ireland in 1883. Site of Special Scientific Interest. Submerged forest. Once considered as a possible terminal for the Great Western Railway. PHOTO.
Abercastle (SM 854335)
Quay once used to bring cargoes from Bristol. One limekiln still in good condition. In 1876 was visited by Alfred Johnson who had travelled single-handed across the Atlantic in an open boat less that 16 feet long, to celebrate 100 years of US independence.
Abereiddy (SM 797313)
Once well-known as a good area to find fossil graptolites Didymograptus spp. and still has Sites of Special Scientific Interest. In the 19th C. Slate was quarried here and exported via Porthgain. Disused slate quarry now flooded to provide a safe anchorage into which a 17yr old made a 120ft jump in 1997. Waters some of the cleanest in the UK. PHOTO"

(cyfeiriad wedi ei ychwanegu / adreça afegida 22-09-1999)

http://www.llangynfelyn.dabsol.co.uk/dogfennau/gazeteer.html

Ar y tudalen hwn y mae rhestr o bob lle wedi'i enwi ar fap OS 6-modfedd y plwyf, cyfres gyntaf. Hefyd y mae rhestr ychwanegol lefydd eraill sydd heb eu henwi ar y map. Ar y ddwy restr mae nodiadau o enwau a sillafiadau eraill sydd wedi'u defnyddio dros y blynyddoedd.

·····
http://www.wales-hotel.co.uk/1accomm/welsh1.htm
Understand and Pronounce Welsh Place Names - Maesygwernen Hotel Website
CYMRU: http://www.wales-direct.co.uk/llyfyr/pgenw01.html
"The Place Names of Wales"
The bulk of this book is made up of a dictionary of place-names which provides both the derivation, the meaning of the names and a discussion of them. These place-names reveal fascinating insights into the people, history, communities and language behind them.
Hywel Wyn Owen, a renowned authority on the place-names of Wales, has succeeded in writing a readable and informative guide which brings together most of what is currently known about selected place names in Wales.
http://www.morgue.demon.co.uk/Pages/Map_pages/MAP1.HTM
Map o Gymru yn y cyfnod Rhufeinig
___________________________________________________________________________________________
Adolygiad diweddaraf  / darrera actualització 15 12 2000 : 2005-05-23
RHIF Y TUDALEN: 0605c
PWNC: Gwefan Cymru-Catalonia. La toponínia gal_lesa - llista de ls pàgines que tenim en aquesta web. Topònims de Gal·les - formes auctòctones i formes angleses - Enwau Lleoedd Lloegr yn Gymraeg - Topònims d'Anglaterra en gal·lès - Enwau lleoedd Cymraeg Dramor - Topònims gal·lesos a l'estranger (Gwynedd, USA, etc), noms de cases, Llanfairpwllgwyngyllllantisiliogogogoch
Ble'r wyf i? Yr ych chi'n ymwéld ag un o dudalennau'r Gwefan "CYMRU-CATALONIA"
On sóc? Esteu visitant una pàgina de la Web "CYMRU-CATALONIA" (= Gal·les-Catalunya)
Where am I? You are visiting a page from the "CYMRU-CATALONIA" (= Wales-Catalonia) Website
Weø(r) àm ai? Yuu àa(r) vízïting ø peij fròm dhø "CYMRU-CATALONIA" (= Weilz-Katølóuniø) Wébsait

CYMRU-CATALONIA
 diwedd / fi

Edrychwch ar yr Ystadegau / Mireu les estadístiques / See Our Stats